It was common practice for retailers to put up a display of Christmas light sets lit up in their boxes for customers.
I am continuing that tradition here.
Here are some of the General Electric Christmas light sets and bulbs shown lit up.
For best viewing enjoyment, turn down the room lights
Skip to Merry Midget Sets.
G. E. Twinkle Bright Bulbs.
Flasher bulbs, or twinkle bulbs, are used to create the effect of animation in holiday displays.
They make use of a bi-metal strip, which is made of 2 different metals bonded together, for their flashing action.
When heated the strip bends, due to different expansion rates of the 2 metals.
The strip then moves away from a contact, and the bulb goes out.
When the strip cools and moves back to the contact, the bulb lights again and the cycle repeats.
---

G. E. Glow Bright classic..
These bulbs date to the 1960's and had a glazed ceramic-like coating that would never chip or fade.
They were made in the Good-old U.S.A. Look carefully and you can see the G.E. logo at the bottom.
Unfortunately, they also got very hot !
The bulbs were not suited for artificial trees, or the tiny grasping hands of youngsters for that matter. OUCH!
---

G. E. Glow Bright enerGE saver.
These Bulbs date to 1977 and were introduced in response to the U.S. energy crisis.
They had a painted coating that was more efficient - it allowed the same brightness,
but using only 5 watts for C-7 and 7 watts for C-9. They were made in the U.S.A.
---

G. E. Satin Bright #D36.
These Bulbs had a Metallic appearance which was unique - they really did "Shine even when they're off" as their ad said.
When lit, the bulbs appeared slightly transparent. Unfortunately it's difficult to capture this effect on film.
---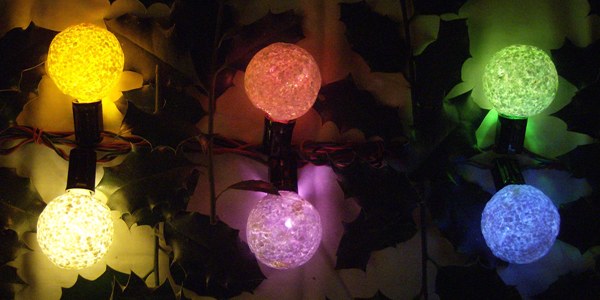 G. E. Snowball Bulbs.
Finally, after spending too much money on eBay, I have a complete set of these snowball Bulbs.
"They're white - till they light!" They date to the late 1950s and were not as popular as lighted ice.
They are G14 globe bulbs with a clear color coating, then over that is white Styrofoam.
The colors are (top, L-R) yellow, red, and green, then (bottom, L-R) white, violet, and blue.
---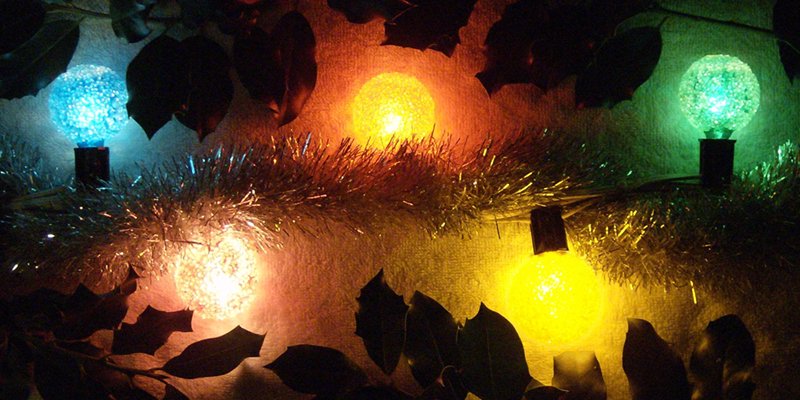 G. E. Lighted Ice.
These are candelabra base G50 globe bulbs with plastic ice crystals on them. They look like lighted snowballs.
---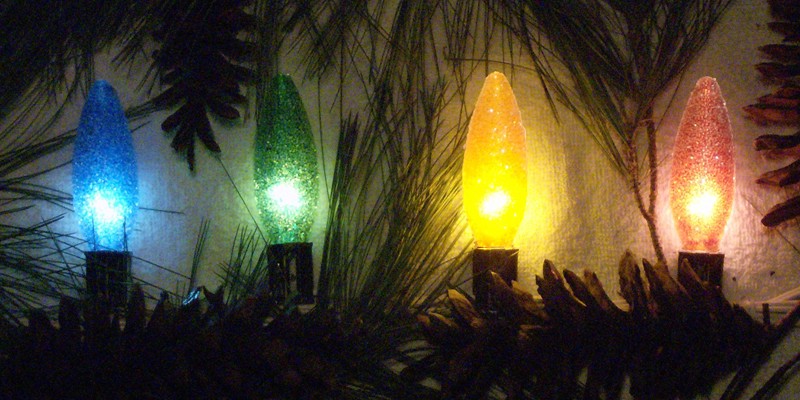 G. E. Stardust bulbs.
These are the same shape as candelabra base torpedo chandelier bulbs, with a glitter finish.
---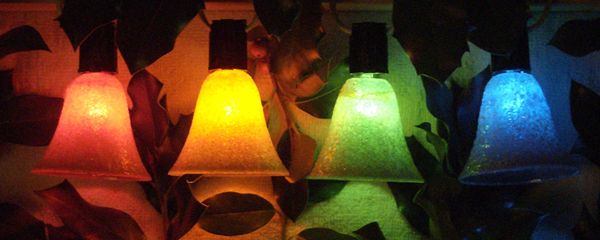 G. E. Lighted Bells.
Catalog # C7-LB they had a C-7 candelabra base bulb inside a plastic glitter coated bell.
---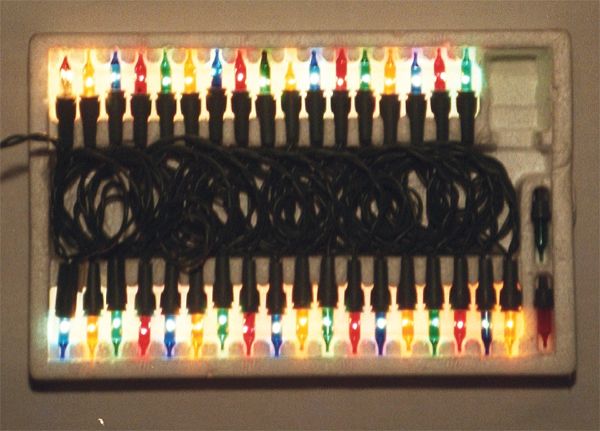 G.E. Merry Midget set from the 1980s.
This set was very popular and had the standard wedge base. It was packaged in a foam tray.


G.E. Merry Midget set 1960s to 1970s.
This set used a bi pin base that was unique to General Electric and was packaged in a paperboard box.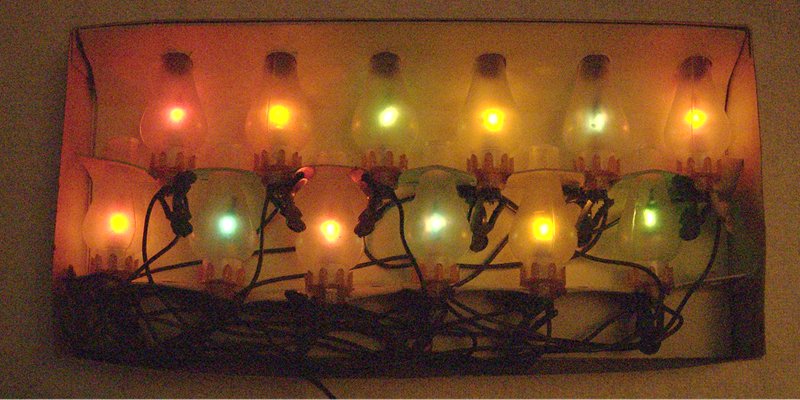 G.E. Colonial Lights Miniature 12 Light set, Model COL-2-12, 1960s to 1970s.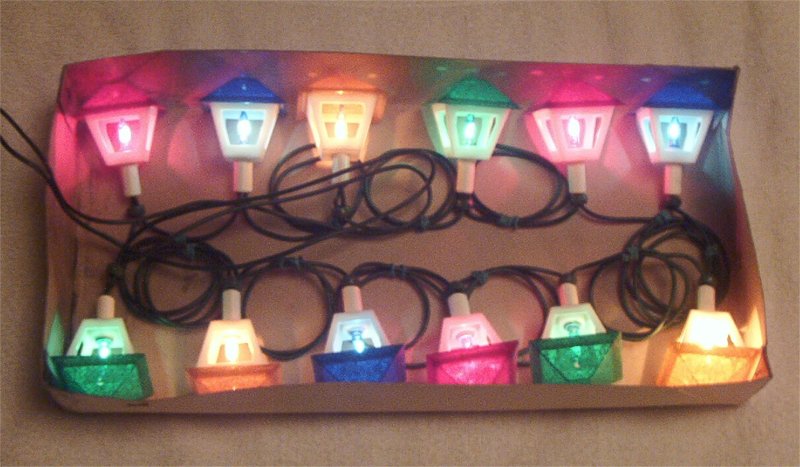 G.E. Lantern Lights Miniature 12 Light set, Model LTL-2-12, 1960s to 1970s.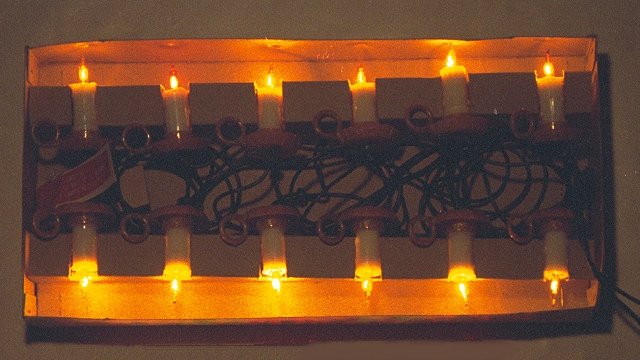 G.E. Candle Bright set, 1960s to 1970s.
Model CL2-12, made in Japan. The sockets were hidden in the candles while the bulbs were the flames.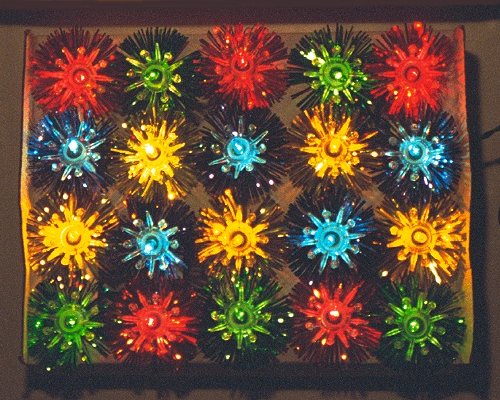 G.E. Tinsel Light set.
From the 1970s energy crunch era. The EnerGE saver designation indicated
it was a way to add color without using a lot of electricity.