The complete Story of Gilbert Manufacturing.

The mystery of the Gilbert light sets has been solved.
Over the years collectors have come across light strings with "Gilbert" marked on the end plug. Some have mistakenly believed that they were made by the A.C.Gilbert company, which was well known for creating the Erector set.
The Gilbert sets were actually made by Gilbert Manufacturing Co. of Long Island City, N.Y. The factory was located on Astoria Boulevard in Long Island City, Queens, NY.
The factory was in operation from the mid-1930s to late 1990s and grew from 5,000 sq ft to 35,000 sq ft. with more than 150 employees at it's peak.
The company was founded by Charles E. Gilbert an inventor who held numerous patents for electrical devices. His contribution to Christmas was a design for a socket with contacts that pierced the wire insulation, resulting in a simple and inexpensive design.
They made light sets for distributors such as NOMA, Beacon Electric, and General Electric, for sale through mass merchandisers such as Wal-Mart and K Mart.
Another product invented by Mr. Gilbert was an inline thumbwheel switch for a light cord.
Here is a more recent patent from 1989 for a fused plug that used full size fuses. Patent #4799898
I would like to thank Peter Gilbert, son of founder Charles Gilbert and President of the latest incarnation of Gilbert manufacturing as of 2016, for this information.

Reference: Consumer Product Safety Commission advisory #95-027.
On one set I have the sockets are marked with Patent # 2,636,069 issued 04/21/53 to Charles E. Gilbert, while the A. C. Gilbert company was founded by Alfred C. Gilbert. There was no relation between the two Gilberts. The sets are quite common as there are many for sale on ebay. Bakelite socket sets like these were common in the 1950s but fell out of favor once G.E. and others introduced the all green sets in 1963.
One suggestion for anyone who has these light strings is to put modern bulbs in them and then put the lights up on your tree to give it a retro look.
Bottom view of socket showing patent number.
This is their model # 560.
(Clip was swabbed with black paint to show markings)
The socket was held together by a steel clip.
The contacts pierced the wire insulation to make connection.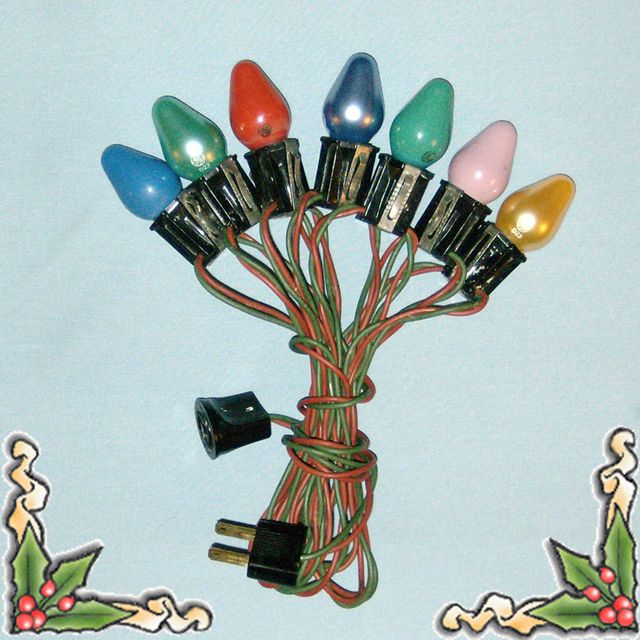 Gilbert 7 light C-7 set with bakelite sockets, from 1950s.
This set has bulbs from the 1960s, with 3 G.E. glow bright bulbs, 3 G. E. Satin glo bulbs, and a rare pink Westinghouse bulb.