The 1963 to 1978 era.
The era of 1963 to 1977 is considered the golden age of G.E. lighting because their product line was the most extensive ever.
In 1963 G.E. introduced their own light strings, marking a departure from just selling bulbs.
In fact, their product line included even more than what is shown here !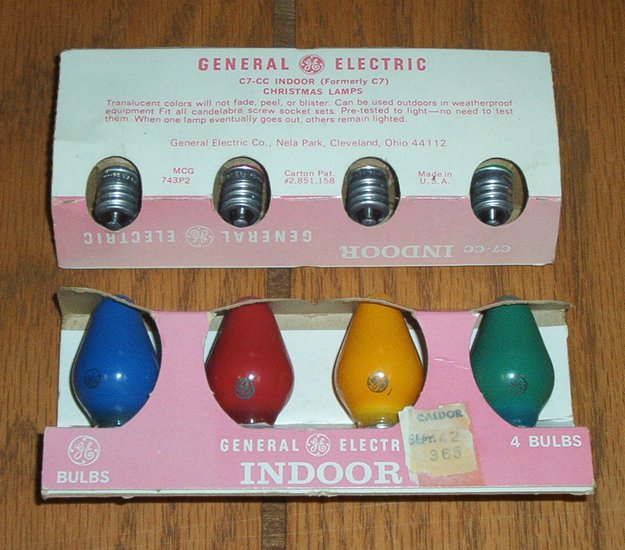 G.E. Glow Bright C7-CC, pre 1975. These bulbs had a glazed ceramic like finish that would never chip or fade, but they also got very hot!
This carton is simply marked "INDOOR" Note the round G.E. logo at the base of the bulbs.
---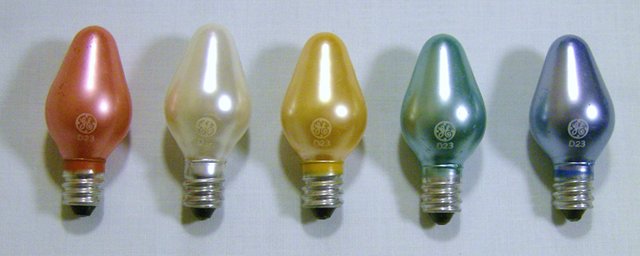 G.E. Satin Glo #D23. These early bulbs had a nice metallic shine to them, but when lit up, they looked like regular Christmas light bulbs.
How do you tell them apart? Satin Glo was marked with the G.E. logo and D23 on the bulbs, and Satin Bright was not.

---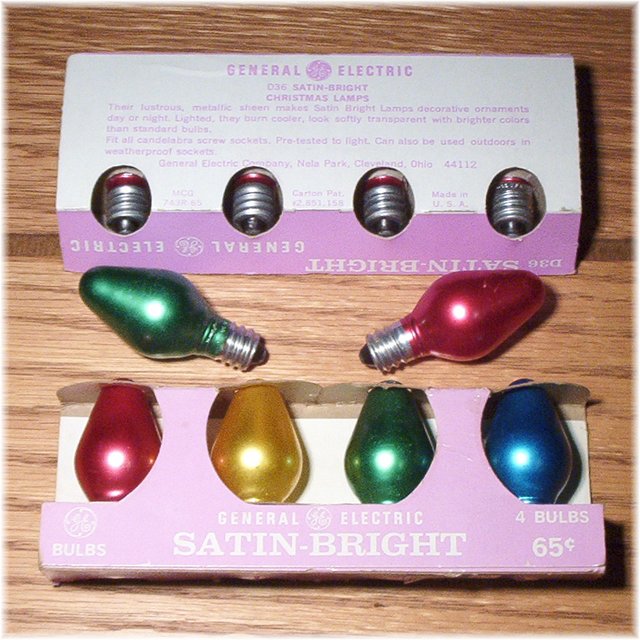 G.E. Satin Bright. #D36. These Bulbs had a Metallic appearance and they really did "Shine even when they're off" as their advertisement said. When lit, the bulbs appeared slightly transparent. Unfortunately it's difficult to capture this effect on film.
---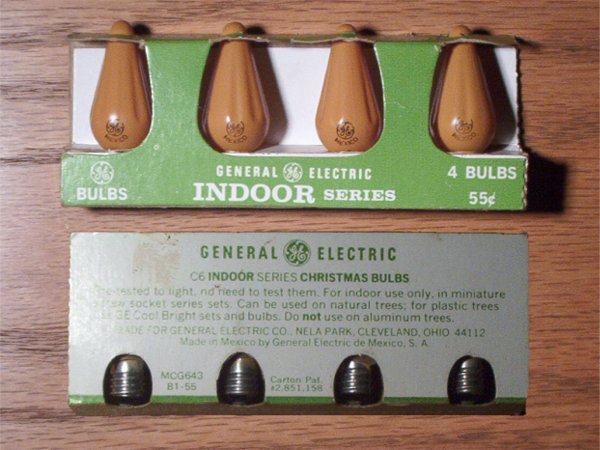 A package of C-6 bulbs made in Mexico, 1970s. These were finally discontinued in 1977.
The bulbs are all orange so they were probably intended for candelabras.
---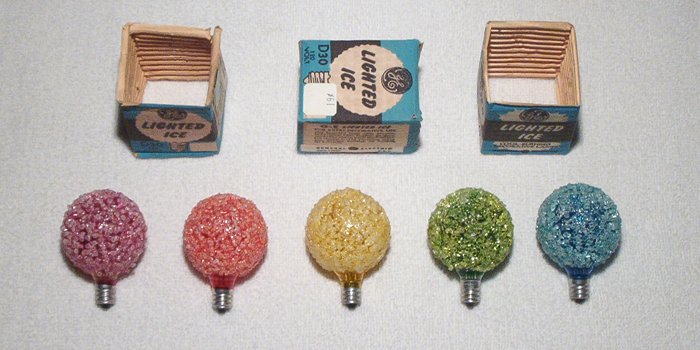 General Electric Lighted Ice bulbs from this era. These had plastic "ice" crystals on G14 candelabra base globe bulbs. The colors are (L-R) Ruby, Garnet, Topaz, Emerald, and Turquoise. When lit, they looked like snowballs. Check the price sticker - 19 cents! For more information, see U.S. Patent # 2946911.
---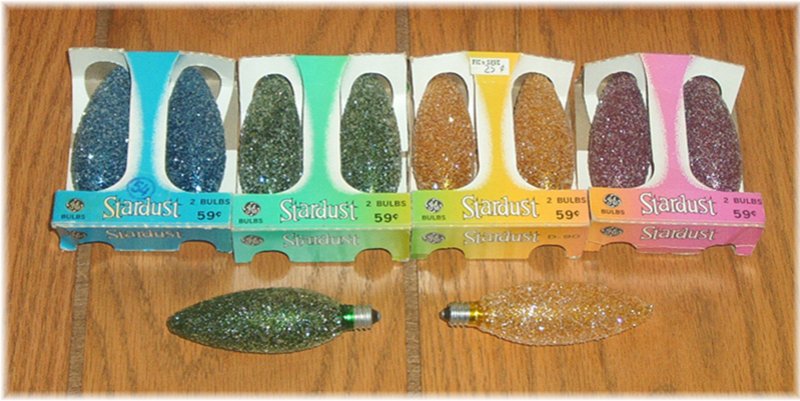 Another variation is these stardust bulbs which date to the 1960s. They're torpedo shape bulbs with a glitter finish. It's no coincidence that these bulbs are the same shape as torpedo chandelier bulbs. That's so they could be manufactured using existing equipment.
---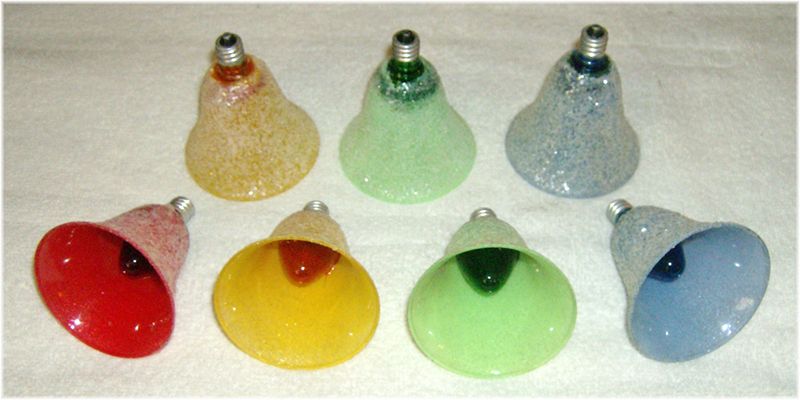 G.E. Lighted bells, #C7-LB, pre-1977. Those folks at G.E. sure liked glitter!
These ornaments had a C-7 transparent finish bulb cemented inside a glitter coated plastic bell, which makes replacing the bulbs a challenge.
Click here for a technique to replace the bulbs.
---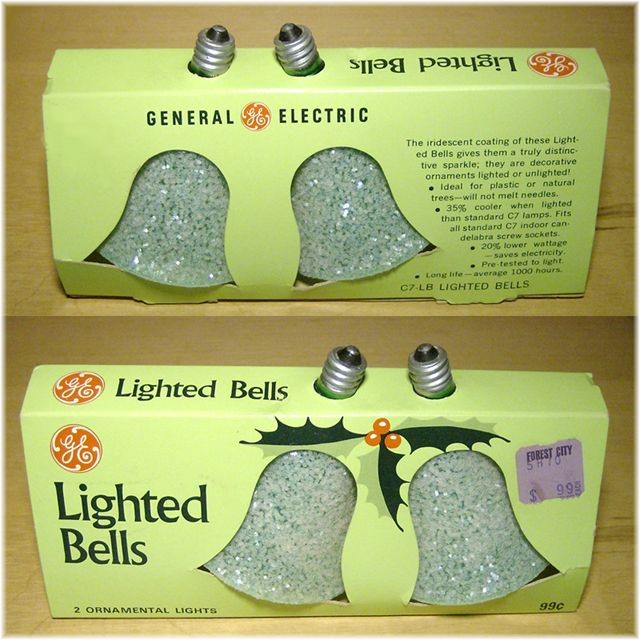 G.E. Lighted bells #C7-LB, pre-1977, in the original packaging. These ornaments were also sold with a light string included.
---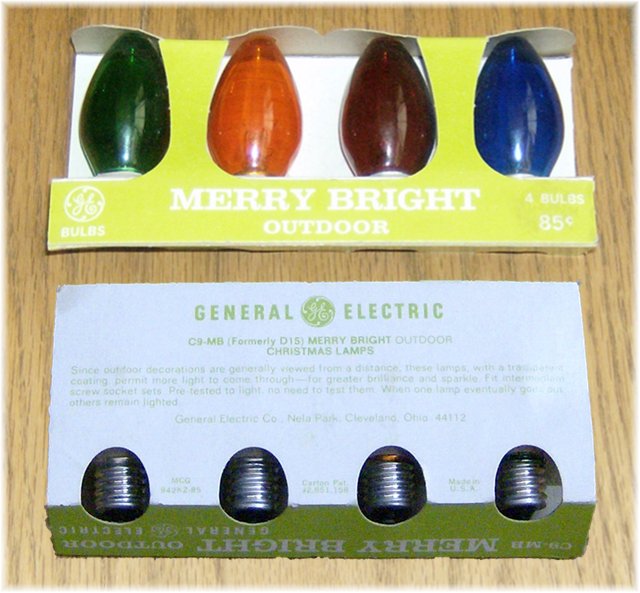 G.E. Merry Bright bulbs in C-9 intermediate base size, Catalog C9-MB. These are steady burning bulbs with a transparent finish which are often confused with twinkle bulbs. Once the bulbs escape from their packaging, the only way to tell them apart is to examine the elements inside. The Merry Bright name was only used on C-9 size bulbs, while the Cool Bright name was used on C-7 size bulbs.
---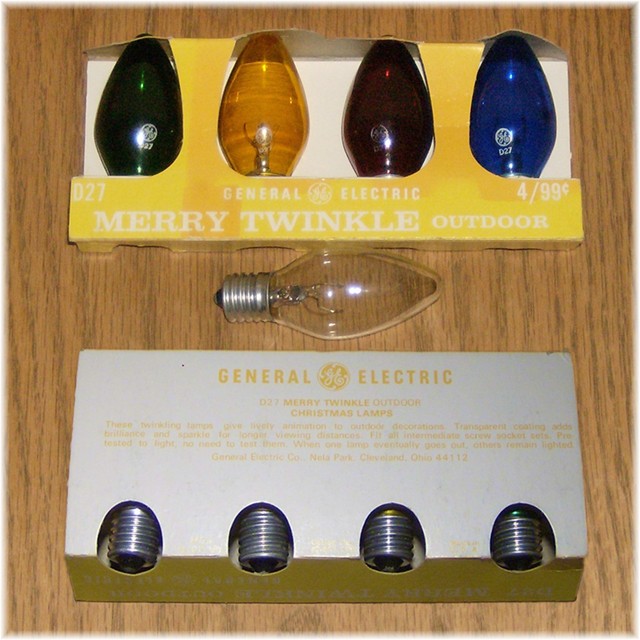 G.E. Merry Twinkle bulbs in C-9 intermediate base size, Catalog # D27. The bulbs were made in the USA and had a different design which resulted in a faster flash rate than today's bulbs. The standard colors were red, yellow, green , and blue but they were also made in clear as seen at center and amber - not shown. The Merry Twinkle name was used on C7 and C9 size until 1977 when it then became Twinkle Bright.
---