These are all the items that do not fit into other categories.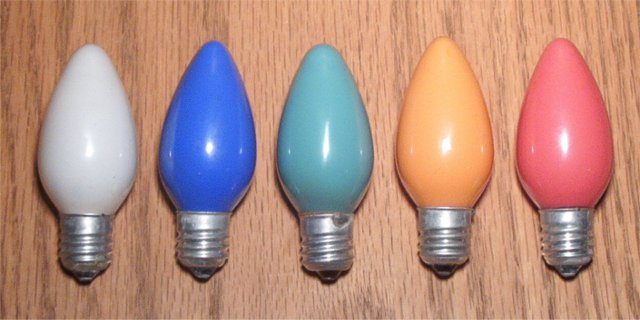 A set of Japanese made C-9 Bulbs. These are inside frost bulbs, meaning they have a powdered color coating on the inside of the glass envelope. The coatings were based on heavy metals like Cadmium and Chromium, so they could never be sold today! The bulbs can be left outdoors for years, yet will still retain their color.

Note: the lighted C-6 bulbs have been moved to the Vintage lights page.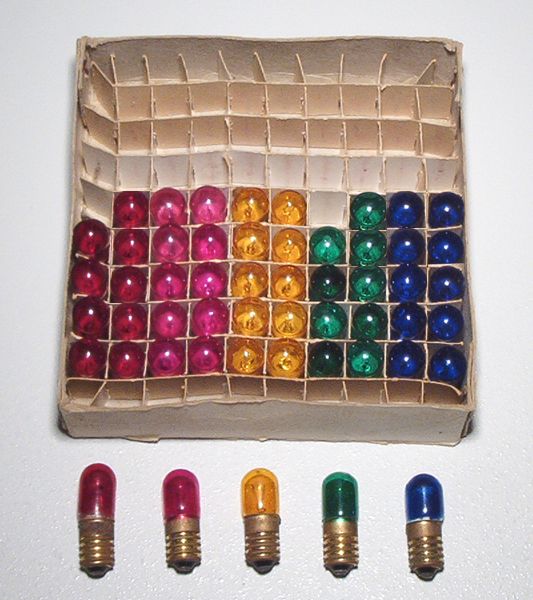 Here is a box of Miniature Base 8 volt bulbs, Made in Japan, part No TU-ST-CO.
The colors from left to right are Red, Magenta, Yellow, Green, and Blue.
They're similar to the ones used in Transformer Powered Christmas lights, but these have a shunt element in them, indicating they were for series wired sets. These bulbs date to the late 1960s.
Through the magic of digital imaging, I added a few more bulbs to the box. Can you tell?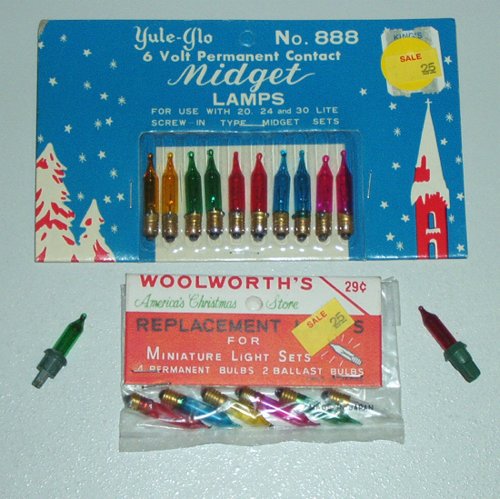 Here's a sampling of midget base Christmas Bulbs from the early 1960s.
The screw base, now known as an E5 base, is only 13/64 inch (5 Millimeters) in diameter.
Also shown are 2 modern wedge base bulbs for comparison.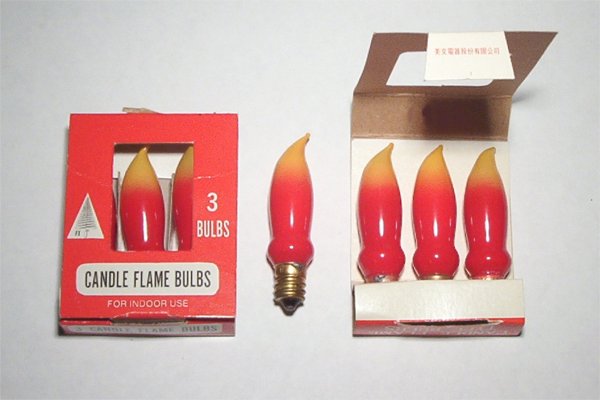 Flame bulbs for use in candelabras. These are made in Taiwan and date from the late 1970s.
The packaging was designed to look like a matchbook.
Still sold today, though they're hard to find.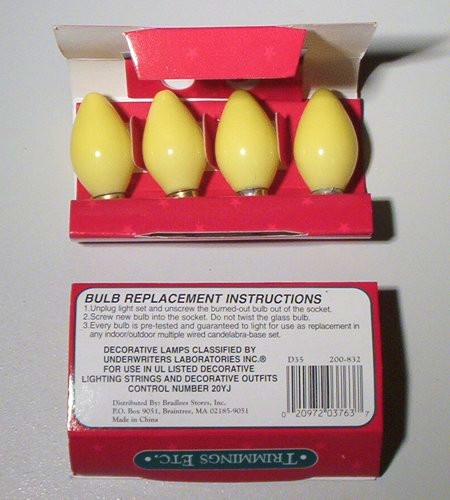 Here are C-7 bulbs in a hard to find canary yellow color. Orange is typically more common among Christmas light bulbs.
These were sold at Bradlees, another now defunct department store.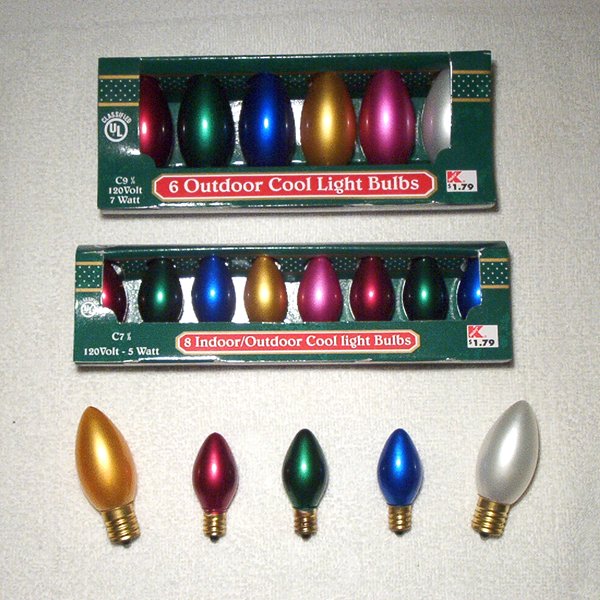 Kmart sold metallic finish Christmas bulbs for a brief period, from 2002 to 2004, in C7 and C9 sizes. These bulbs were very similar to the classic G.E. Satin Bright bulbs in that they had a metallic finish and even turned transparent when lit. They're dimmer though because these bulbs are 5 watts for C-7 and 7 watts for C-9 compared to 7 watts and 9 watts for the old ones.
See these bulbs lit up!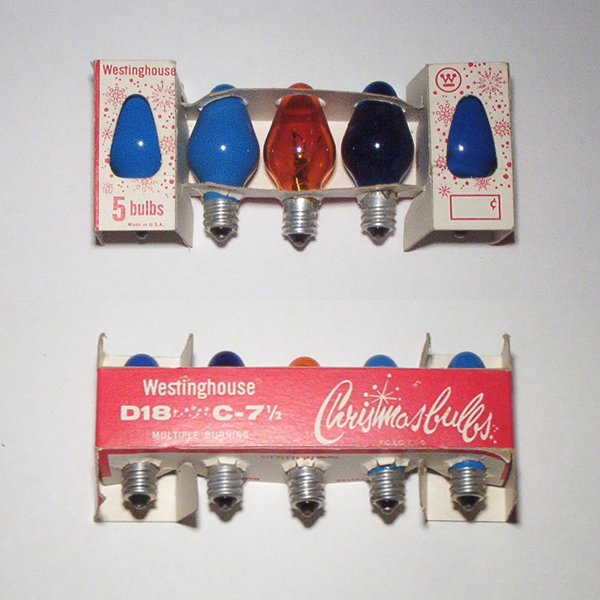 A typical carton of Westinghouse C7 bulbs introduced in early 1960s.
The carton was designed to give maximum visibility to the bulbs,
which increases the chance of a sale.
Reference: U.S. patent # 3,136,410 granted June 09, 1964 to S. P. Sanford of Westinghouse Corp.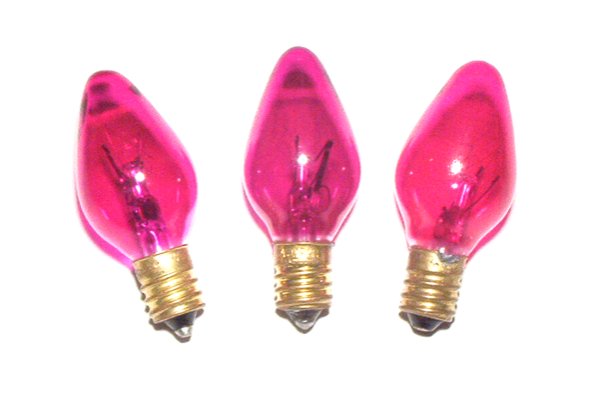 Here are 3 Japanese made C7 flasher bulbs in a rare pink color. Or is that magenta?
Anyway these were part of a 5 pack that included the traditional red, orange, green, and blue.
After lots of searching, I found a source for pink flasher bulbs.
Go to : Christmas Lights, etc. for pink flasher bulbs.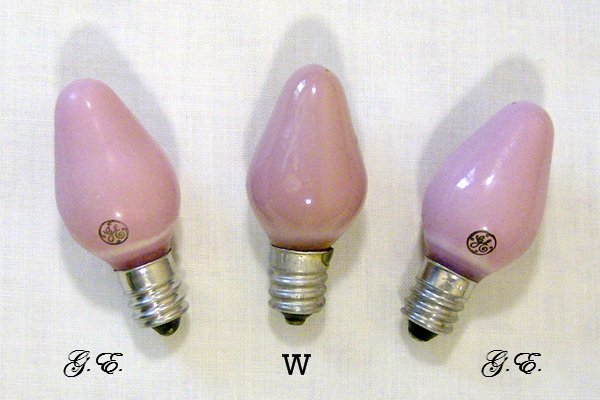 Pink C-7 bulbs are quite rare. They were introduced in the 1955 and known as "Holiday Pink" They were also installed into some Christmas light sets. From 1955 to 1963 the bulbs were sold in 5-packs. After 1963 they were sold in 2-packs and 4-packs, at least until 1968.
But that's not the end of the story. Over the years, pink bulbs were also sold for use in night lights, so they never really went away.
The bulb in the middle is by Westinghouse. It had the "W" logo but the mark wore off over the years.
You can still buy pink night light bulbs today at Home Depot.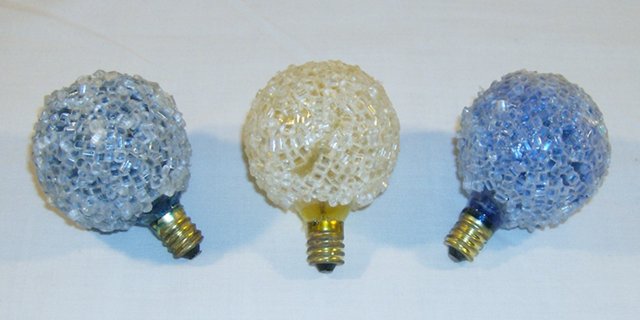 General Electric did not have a monopoly on Lighted Ice bulbs, as seen with these samples.
They're very similar to the G.E. bulbs but the brass bases are a giveaway.
The 2 blue and 1 yellow bulbs shown here are possibly NOMA Lighted ice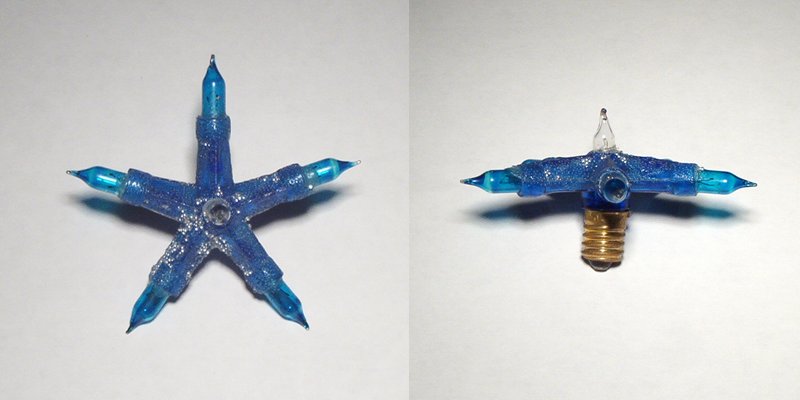 A miniature base blue twinkling star for use in C-6 sets, dating to the early 1960s.
There are 5 blue bulbs at the points of the star and a clear flasher bulb in the center.
The base is marked "15 V Japan". Also sold by NOMA as "wink-n-blink"
Turn the light on!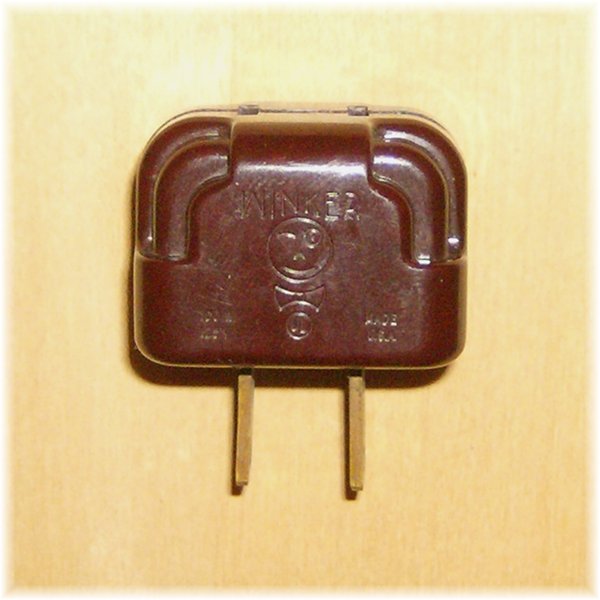 A winker plug also called a flasher plug or blinker plug. You plug this device into any outlet, then plug the light set into it and the entire set will flash on and off. The housing is red bakelite and inside is a heating element and thermal switch.
Reference: U.S. patent #1,720,470, granted July 09, 1929 to Albert. W. Franklin.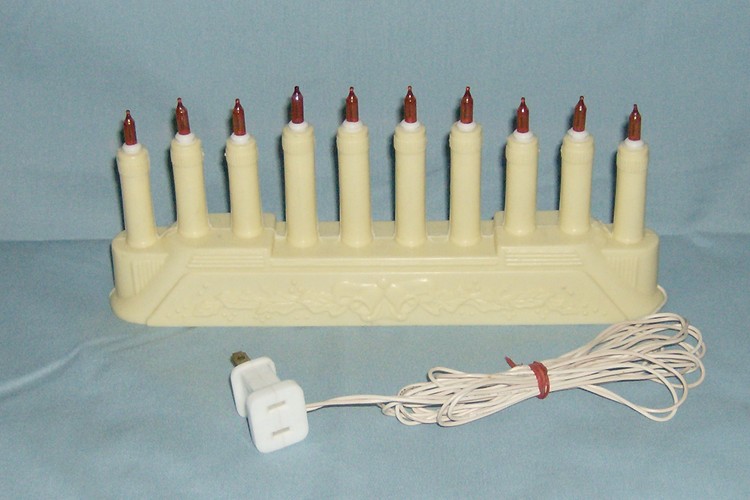 A miniature 10 light candelabra, imported by Beacon Electric. This item dates to the 1980s and was made in Taiwan. The candle flames are created with 12 volt orange miniature bulbs wired in a series string.